The
Venus of Polichinelle
, is a
Venus Figurine
carved in green
Steatite
, found at
Grimaldi
and measures 61 mm in length. It is dated to around 27 000 years old. It is house in
Saint-Germain-en-Laye, musée d'archéologie nationale
.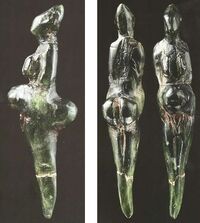 Appearance
Edit
The pronounced buttocks and the projecting belly gave it the name Punchinello, but some see in it a woman about to give birth. Punchinello, or Polichinelle in French, is the short fat buffoon or clown in an Italian puppet show.
Ad blocker interference detected!
Wikia is a free-to-use site that makes money from advertising. We have a modified experience for viewers using ad blockers

Wikia is not accessible if you've made further modifications. Remove the custom ad blocker rule(s) and the page will load as expected.